Based out of Santa Cruz CA, We operate year round on the beaches from Big Sur to Northern Marin County California.
Rates:
- 4 hour "fish the tide" session : $250 one angler $300 two anglers
Fees do not include your valid CA fishing license (can be purchased online HERE) or guide gratuity.
Rates include tackle for the day (Rods, Reels, Lines, Flies). Add $15.00 per person for lunch. Full day trips are available upon request, but due to the physically demanding nature of the surf and changing conditions we recommend any angler new to the surf start with our 4 hour session.
* If you would like to use your own gear please contact us beforehand so we can make sure you have the correct outfit for the conditions.
To contact us or book a trip :
Email: Fishtheripguideservice@gmail.com
Call: 1 (415) 342-7164
My Primary guiding season is September through May, Please understand I am also a full time wilderness guide and very busy during the summer. I recommend booking your trip as far in advance as possible.
Overview
A day with Fish The Rip Guide Service includes honing in on overhead casting & retrieval techniques to effectively fish the surf, how to use different types of shooting heads to cover as much water as possible, line management while casting in the waves using a stripping basket, how to read the water to locate, identify and categorize and fish holding structure. Understanding the tides and the role they play in fishing the surf, Fly pattern and tackle choices, when to fish what fly and why.
Deposit & Payment policy- A 50% deposit is required within 7 days of booking your trip, The remaining balance is due at the end of your trip. At this time we are only accepting cash or check.
Cancelation Policy- If you cancel atleast 30 days prior to your trip then your deposit is fully refundable (Please allow a minimum of 5 business days to refund your deposit). I understand that unforseen circumstances can lead to cancelation, I reserve the right to make refund decisions on the basis of your cancelation. Trips cancelled by me due to large swells, weather or other uncontrollable circumstances will get a full refund.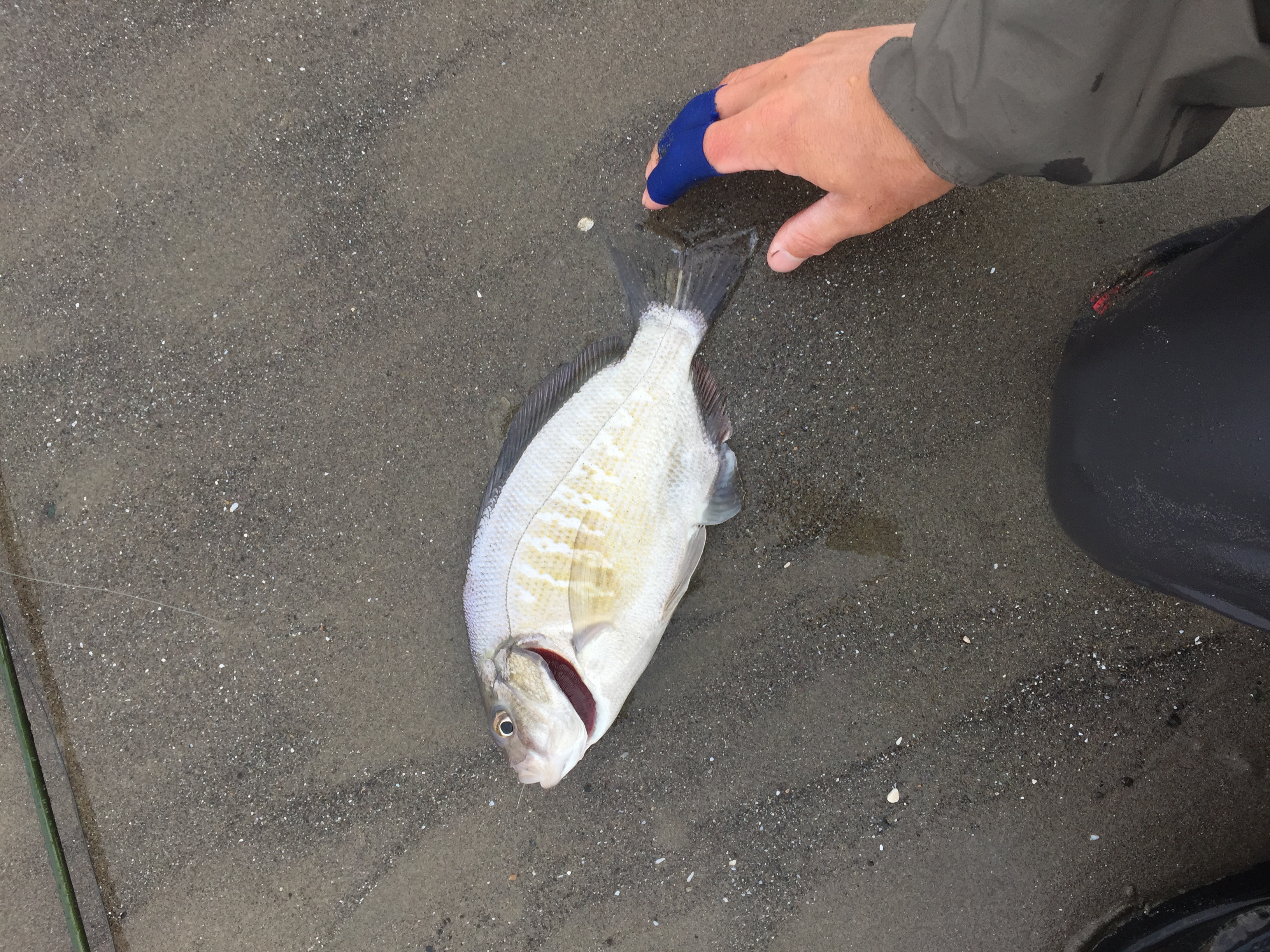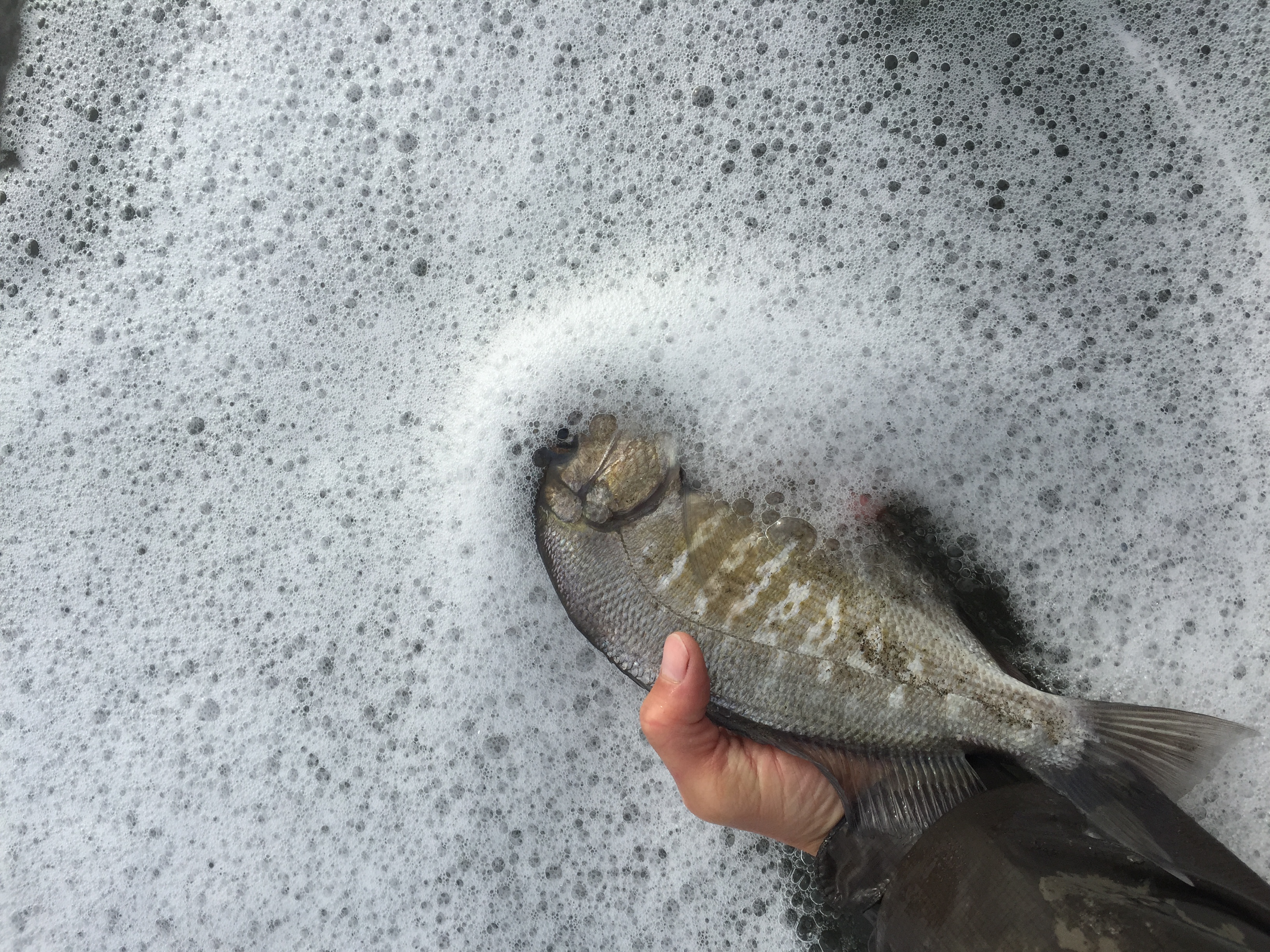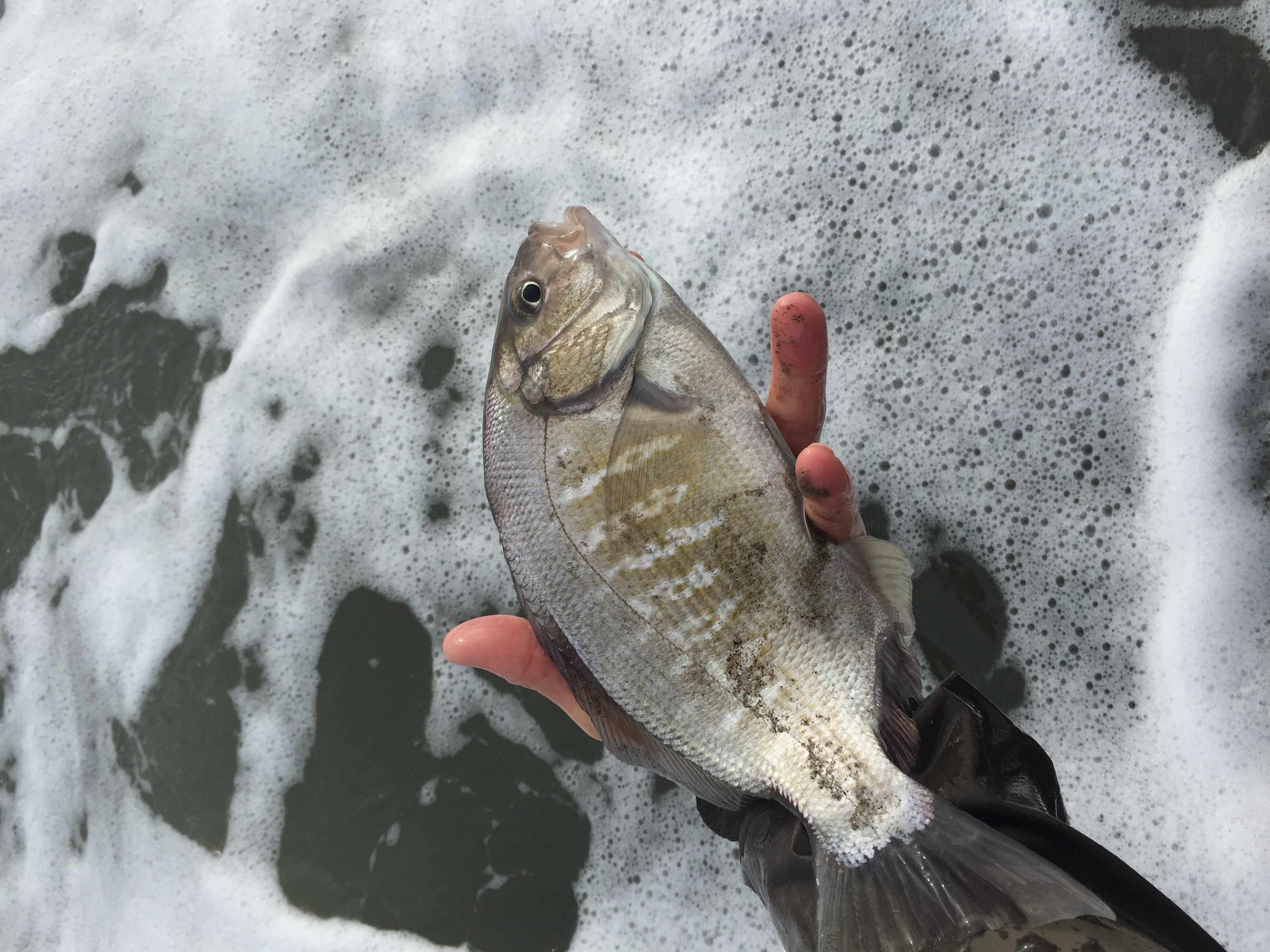 Species we catch in the surf include but are not limited too: Surf Perch, Striped Bass, Halibut, Jack Smelt and other large baitfish species depending on the season.
Seasons-
Surf Perch- (Year Round) Surf Perch can be caught year round. Wintertime is your best shot at consistently hooking 3-4lb monster perch.
Striped bass- (March through as late as November 15) During this time of year we like to focus our efforts south of the golden gate bridge. Fishing during this time of year can be very exiting although VERY challenging. A big striped bass out of the surf is a dream for most anglers and if you hook up to a big one you can expect to see your backing. Stripers in the surf are not for the faint of heart.
* Ask about our walk and wade trips fishing the inshore waters of the SF bay area.
Halibut- (April though August) When targeting halibut we focus our efforts on the San Mateo, Santa Cruz and Monterey County beaches.
Please let us know if you're interested in specifically targeting anything other than surfperch so that we can plan your trip accordingly.
A Beginners Mindset-
The surf can be an extremely difficult environment to learn fish in. First time surf anglers often get to the beach and see one long, flat, featureless and uniform length of sand and waves. The fish move often and the structure is constantly changing. Anglers that are new to the surf zone should come with a beginners mindset, even if your a professional trout fisherman. Those who come with open minds, enthusiasm to learn, and a willingness to work hard will get the most out of our time together. As always success should not be measured by fish caught but by water fished.
Other services-
Jack is also available for presentations on fly fishing in the surf zone, Fly tying demonstrations, Custom fly orders. Please contact us if you are interested in having jack present or tie flies at your fly fishing clubs next meeting.
Fish The Rip is a fully licensed and bonded guide service.
CA Guide # 1000255